Recently updated on December 11th, 2022 at 10:28 am
Customer's information, ideas, and problems concerning their interactions with your business, product, or service are referred to as "client feedback."
Your products, services, customer support, and customer success can all benefit from the input you receive from your customers.
Even negative feedback can potentially spur your company to greater heights of success. Asking for reviews, conducting surveys, interviewing customers, and conducting polls are ways to gather Feedback.
When you listen to what your customers say, you may adjust your service and business to meet their needs better. The customer's perspective will become more clear to you.
Feedback from customers and sales are intertwined. Your service quality, for example, significantly impacts your ability to get a high response rate. So, as you get a positive response, you'll get even better at providing excellent service.
It can only earn customers' trust and loyalty by emphasizing their needs and making it a vehicle for increasing sales. A word-of-mouth marketing technique has no equal in terms of effectiveness.
Why Direct Client Feedback is So Useful

:
Helps You Deliver a Quality Project That Meets The Client's Needs
When a new product, brand, or service is first introduced to the market, you may have an idea of what customers want.
Before launching your product, do some market research to see if there is any interest in it and get feedback on how to improve it.
When your clients use your product or service, you'll be able to learn about all of its pros and problems. In addition, as time passes, their wants and needs change.
Helps Streamline Processes
Clients face a huge difficulty when it comes to choosing who and where to give Feedback. Even if your customers want to give you Feedback, they may not be able to do so if your processes aren't streamlined.
Confused clients will hinder an agency's ability to function effectively. Customers will find a way to contact you, no matter where you are. Might send a text if they're using their phones while studying a landing page.
Streamlining your communication channels is the key to simplifying your client feedback processes. Make a list of the primary contact points from your and your client's teams if you haven't previously. It will help guarantee that all input is routed to the appropriate person or department.
Makes Customers Feel Valued
By requesting customer feedback, you show them that you value their thoughts. People are more likely to be loyal to a firm if they are involved in its development.
Your relationship with someone improves when you pay attention to their words. It is the most effective strategy for attracting enthusiastic brand advocates who will help spread the word about your products and services.
The most cost-effective approach to gaining new customers and building trust with your present and potential clients, as you no doubt already know, is to rely on their recommendations.
When you ask your customers if they are satisfied or dissatisfied with your service, they always appreciate it. The gesture demonstrates that you care about their viewpoint and are there to serve them, not the other way around.
They have the impression that you are in business to help them and not make money. Customers are at the center of your business, and this is how you should do it.
Projects a Professional Persona
What works effectively and what needs improvement in your product or service can be gleaned from customer feedback.
You may be an expert in your field, but client insights will always be more useful to your company's success than your professional knowledge.
A professional image is further enhanced by providing detailed feedback to every customer. You may use their Feedback to ensure the final product lives up to their hopes and expectations and address any issues they may have.
Helps Measure Customer Satisfaction
A company's financial performance is heavily dependent on customer satisfaction and loyalty. Increased market share, fewer costs, and higher revenue are directly related to it.
Numerous studies have shown that a company's success depends heavily on its customer's pleasure. As a result, you want to ensure that your customers are satisfied with the items and services you offer.
The easiest method to find out if you've met they expect to ask for their Feedback. You can evaluate employee happiness and, as a result, forecast the financial health of your business in the future using rating-based questions.
Helps Speed Up The Design Process
Allowing others to assess and analyze a design idea is facilitated through website design feedback. As an integral element of the design process, user testing reveals what is and isn't functioning and opportunities for improvement.
You become a better creative because you can learn from your mistakes and improve your craft with good Feedback. It can also help you spot potential stumbling blocks in your design work and provide a clearer idea of where you want to go.
Your users will have a better experience if you know how to optimize your product early on. Good design feedback is a result of a strong team effort.
But simply asking for comments in a meeting or on a Slack channel isn't enough. Your team members, clients, or stakeholders must understand how to assess or critique creative solutions for this to be a successful process.
How to Collect Client Feedback

:
Feedback Form
It is possible to gain insight into the client experience by using feedback forms that do not already exist in your customer database.
Pros of Feedback Form
Can improve customers' perceptions of your brand by asking for input. According to Microsoft's research, Eighty-nine percent of customers want firms to ask for their input via customer satisfaction surveys. It's a good way to show that you're interested in what they have to say.
Insights can be used to serve your customer's needs better. Form feedback can be used to drive improvements, much as analytics can fine-tune the user experience.
Cons of Feedback Form
If you have many dissatisfied consumers, they may be the most likely to respond. The perception of your company's customer service might be tainted if dissatisfied consumers utilize feedback forms as a platform to express their grievances. In addition, they can detract from the more positive comments you receive from customers who want to keep a relationship with your brand in the future.
In addition, they can detract from the more positive comments you receive from customers who want to keep a relationship with your brand in the future.
The Feedback you receive may be more negative than the general mood of your client base. Your customer base will not be accurately represented if you rely just on feedback forms to gather information about them and their degree of satisfaction with your brand.
Email
Collecting Feedback via email is what we mean when we say "email feedback." In most cases, the email links to the short feedback survey questionnaire, or it may include an embedded survey sent to the intended audience.
Pros
Most organizations have made the switch since they quickly realized that it would be an excellent method for sending surveys to all customers who purchased a service or product digitally and instantaneously. Using this form of a poll, customers can provide their data.
Cons
Even if you don't respond promptly to these surveys, the strategy loses much of its utility if too many of them are too many. As a result, the volume of email responses began to fall significantly. Fewer participants in a study can lead to biased, subjective, and unreliable conclusions.
Project Management System
Project management has emerged as a critical tool for businesses everywhere as a critical component of a company's overall efficiency and performance.
Pros
Work in real-time with other members of the team. Project management software frequently includes capabilities for facilitating real-time discussions among team members. As a result, everyone on the team is always up to speed and ready to tackle problems as they emerge.
The ability to manage risks, forecasts, and spending. One of the most important benefits of project management software is the ability to estimate and track budgets.
Easy to use. Dashboard-based software is easy to use and does not require much training. New project management software is simple and fast to install, allowing for quick ramp-up periods.
Cons
Costly and low-return programs can be found in some areas. Although project management software can deliver fantastic solutions, these solutions often require a custom design or the purchase of various software applications. Options like these might be expensive and difficult to adopt.
A project management tool can make even the simplest tasks more difficult. Project management software is a common choice for many firms, although simple projects may not require it. Inappropriate usage of project management software might make things more difficult than they need to be.
Direct Feedback Using a Plugin
WordPress users wishing to set up feedback forms quickly and for client communication with their customers would benefit greatly from user feedback plugins for WordPress.
Even if there are approximately 100 pages of search results for a term like "user feedback" in the plugin library, finding a suitable plugin isn't always as simple as you might think. SEO tools, landing sites, social media integration, and caching tools are all examples of plugins in this category.
Project Huddle is a WordPress plugin for website & design feedback. This makes client feedback very convenient. With the help of this plugin, you can add sticky-note style feedback directly on your designs and web projects.
ProjectHuddle is a well-liked WordPress feedback plugin. Many online projects face a major challenge in obtaining client input on the design of their websites. When working remotely, getting feedback on ideas and websites might not be easy.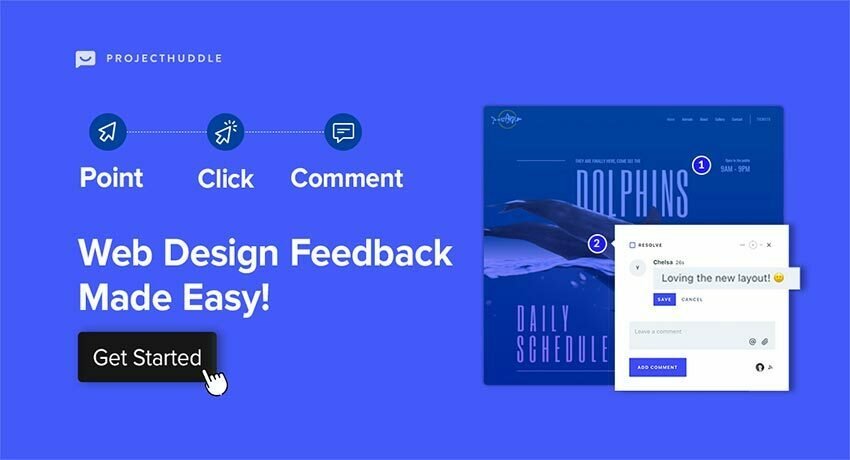 Project Huddle, however, makes this process a whole lot simpler. A space for clients to provide input on the design is created by this WordPress plugin. The procedure is straightforward:
1. A link to an online design or live webpage
2. Send your customers a link to this page.
3. Find out what people think with a simple dashboard.
Simply clicking on the website and writing what you think is all it takes for your clients. No more trying to figure out which portion of the site a client is referring to by comparing feedback emails with designs. What they clicked and said is right there in your eyes.
Installing Project Huddle on a subdomain of a separate WordPress site is highly recommended. As a result, it's easy to maintain and keeps it separate from your main website.
Project Huddle Features
Project Huddle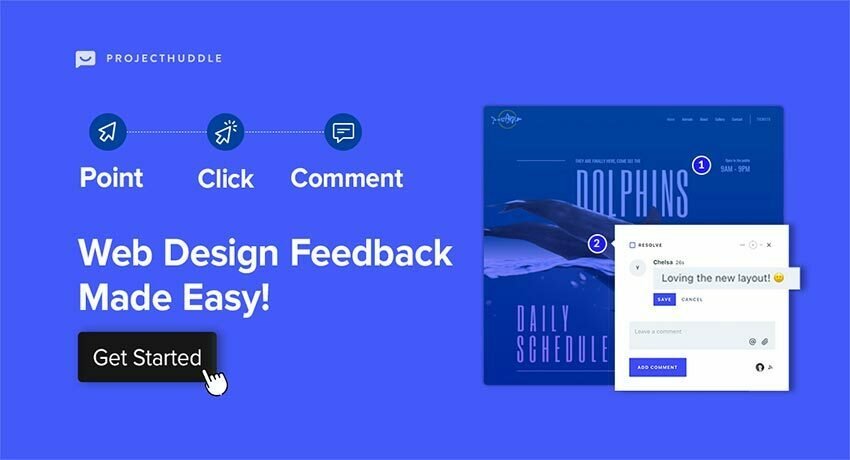 Features:
Easy to install WordPress plugin
Add sticky notes directly on web pages
Manage all web projects and feedback in one place
Connect Project Huddle with 1500 plus apps using Zapier
mobile devices compatible
customize the Project Huddle interface with no coding knowledge
Custom user roles for your clients and colleagues.
Automatic email notifications to inform project progress
You can restore deleted comments & Images
Password Protection to projects for extra security
& Lots more…
Project Huddle Pricing
Project Huddle comes with 2 plans, one is Regular Plan and the second is Professional Plan. The Regular plan's pricing is $109 & Professional Plan's pricing is $139.
Read More In-Depth Guide On:-
Watch Project Huddle Walkthrough Video Tutorial:
Watch the video for a better understanding of the Project Huddle:
Conclusion
The most important tool for any organization to expand is the ability to effectively handle client feedback, despite the fact that doing so is quite tough.
Your customers will switch to another product or service if you don't respect their comments. React to your client's Feedback with care and consideration.
There are a variety of methods and websites that can be utilized to communicate with customers. Because it is incorporated into your WordPress dashboard, WP Feedback offers a unique approach to customer service.
As a user of WP Feedback, you'll have the opportunity to interact with the plugin's designers and other like-minded individuals, and you can even suggest new features that you believe will enhance the plugin's functionality.
We have also mentioned a well-known and amazing plugin for customer feedback on WordPress: ProjectHuddle. Do try using it for better results.