AI's influence spans across various domains today, including the field of marketing.
Integrating AI-powered features into marketing software has significantly streamlined tedious tasks, making them much easier to manage.
With the assistance of AI, businesses can now experience exponential growth in their sales.
GetResponse, a leading email marketing software, has recently unveiled its latest AI-powered features.
These features utilize GPT technology and are specifically designed to help users achieve their marketing goals.
Whether it involves creating high click-through rate (CTR) subject lines or captivating email bodies, GetResponse has simplified the entire process.
This article will explore the new AI features recently introduced by GetResponse.
Each part will be examined individually, ensuring that you have a clear understanding of their functionalities.
Now, let's start with an overview of GetResponse itself.
What is GetResponse?
GetResponse is one of the most well-known email marketing software programs for big and small businesses.
They provide a range of online marketing tools, such as email marketing services, landing page creation, and marketing automation, designed to help novice and adept marketers looking to improve their email marketing efforts.
It enables its users to create and send automated email campaigns, optimize them, and track their effectiveness, thereby increasing engagement with their audience and driving results through data-driven strategies.
And what's more? GetResponse has now introduced a range of AI-powered features to ease the pain of its user base. Let's explore each of them deeply!
Exploring GetResponse's AI-Powered Features
1. AI Subject Line Generator
GetResponse's AI Subject Line Generator is an invaluable tool for boosting your email marketing success.
With AI's power, this new feature suggests subject lines backed by data and proven to increase open and click-through rates. Users can access a treasure trove of subject line ideas tailored to their industry with just a few clicks.
Additionally, this feature allows you to conduct A/B tests to experiment with various subject lines and identify the ones that resonate best with the audience.
This feature takes the work of crafting compelling subject lines, saving you time and helping you achieve better results.
2. AI Email Generator
Writing good emails is crucial to maintaining professionalism and credibility in your industry.
It helps build trust, and the recipient is more likely to engage with emails written professionally.
With the new AI Email Generator feature harnessed by GetResponse, you can now create engaging email content in record time.
The GPT-powered AI feature will save you from the manual headache of brainstorming, writing, proofreading, and editing ideas.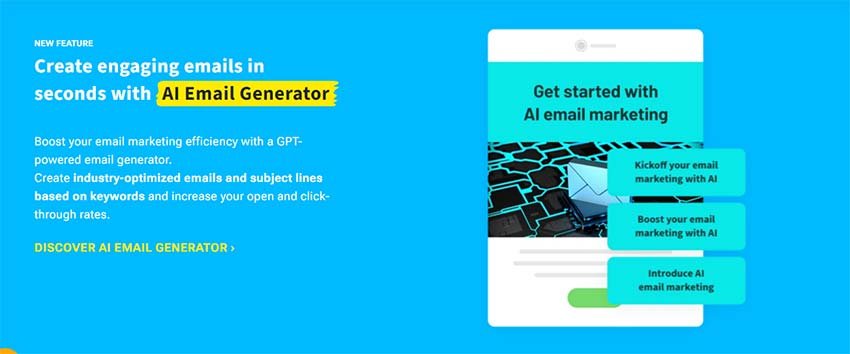 This feature is available for all paid plan users and comes with unique features like:
3. AI Autoresponder Generator
Responding to emails swiftly helps create trust and makes the customer feel valued.
Personifying each response is difficult, but no more with the GetResponse AI Autoresponder Generator!
This new feature, available to paid plan users, will empower marketers to provide relevant responses quickly.
The AI Autoresponder Generator will create industry-relevant content and subject lines while keeping the target audience in mind.
The GPT-powered AI can create industry-relevant autoresponders 85% faster, facilitating increased engagement and retention!
Moreover, this feature streamlines the process of creating autoresponders by generating complete emails and subject lines, saving you significant time.
By taking benefit of this powerful tool, you can focus on nurturing relationships with your subscribers while the AI handles the heavy lifting.
4. AI Landing Page Creator
An attractive landing page is a must for businesses to capture potential buyers.
A lot of hard work goes into creating a perfect landing page, but it has never been easier than with GetResponse's AI Landing Page Creator.
This new AI feature introduces a seamless and intuitive experience that empowers you to build custom landing pages in just a few clicks.
By selecting the keywords and industry relevant to your campaign, the AI engine generates optimized messaging, visually appealing layouts with graphics, and native feature blocks.
The output of the AI landing page creator is a professionally designed landing page that resonates with your audience and drives conversions.
Whether you're promoting a product, service, or event, the AI Landing Page Creator ensures that you make a lasting impression and achieve your desired marketing goals.
5. AI Onboarding Checklist and AI Campaign Generator (Coming Sept. 2023)
GetResponse's upcoming AI Onboarding Checklist and Campaign Generator are for you if you want to take your marketing campaigns to new heights!
This highly anticipated feature will revolutionize the way you launch successful campaigns.
It will come with a comprehensive step-by-step checklist to ensure the user overlooks no crucial elements.
From creating a customized landing page to crafting a compelling welcome email and a newsletter, the AI Onboarding Checklist and Campaign Generator will guide the user through the process, ensuring you have all the necessary assets to captivate your audience.
This feature saves you time and effort, eliminating the need for manual content creation and allowing you to focus on delivering a memorable and impactful campaign tailored to your business and audience.
6. AI Web Push Notification Generator
A well-functioning web push notification is something businesses want to pay attention to.
It effectively engages and converts your website visitors into potential leads with AI-generated web push notifications.
GetResponse's AI Web Push Notifications Generator is a powerful tool specifically made to help you maximize user engagement.
The AI generates optimized notifications that grab attention and drive action by analyzing keywords and industry-specific trends.
This new feature is so powerful that you can create compelling push notifications tailored to your audience's interests and preferences with just a few clicks.
Whether you want to promote a limited-time offer, share exciting news, or encourage subscribers to take a specific action, this user-friendly tool ensures that your web push notifications make a lasting impact.
7. AI Assistant for Paid Ads
GetResponse's AI Assistant for Paid Ads will be a game-changer in running effective and targeted ad campaigns.
This new AI-powered feature empowers users to find new customers and stand out in the competitive advertising landscape.
With the AI Assistant, you can easily create targeted paid ad campaigns directly from your GetResponse account, eliminating the need for multiple platforms.
The AI Assistant offers a simplified ad creator that guides you through the process of creating high-converting ad copy.
You can create compelling ads that resonate with your target audience by leveraging AI-powered content generation.
Additionally, you can utilize your email marketing insights to create custom ad audiences, ensuring that your ads reach the right people at the right time.
With the AI Assistant available for paid users, you can achieve faster growth and maximize the impact of your advertising efforts.
Conclusion
GetResponse's latest AI-powered features are here to revolutionize email marketing by simplifying and enhancing various aspects of the marketing process.
From generating engaging emails and autoresponders to creating eye-catching landing pages, integrating AI technology empowers marketers to save time and achieve better results.
Furthermore, upcoming features like the AI Onboarding Checklist and Campaign Generator promise to streamline campaign launches further.
With AI-driven tools for web push notifications, paid ads, and subject lines, GetResponse is positioning itself as an essential asset for businesses seeking to boost their email marketing success.
With the help of these AI capabilities, marketers can focus on building meaningful connections with their audience while letting technology handle all the heavy lifting, ultimately driving growth and engagement.
---