The world has come to a different trajectory with the rise of Artificial Intelligence (AI) tools.
These AI tools have made various things accessible, from creating realistic art to writing an entire blog post. It can do anything with ease.
In particular, the AI writing tools like ChatGPT, INK AI, Jasper, etc., have been creating a buzz around the digital world.
These tools are revolutionizing the way we create written content, and one such tool which is a part of this digital revolution is the INK AI writing tool.
INK AI writing tool caters to everyone with a need to create writing content, from simple emails to complete web copies to fully SEO Optimized blog posts; it can produce anything with just a click of a button!
INK AI features numerous ready-to-use writing templates and can produce high-quality images to facilitate your content and make it ready to rank on Google.
Additionally, its sleek UI and easy-to-navigate interface makes the tiring writing process a breeze.
This article will give you a complete picture of the INK AI tool and present a comprehensive guide so that you can understand the tool and make an informed decision about the same.
Let's get started!
Key Benefits of INK AI Writing Tool
INK AI writing tool helps you create written content with ease. Anyone with content creation needs can use it.
It has some cool features like a content calendar, keyword analysis, writing templates, etc.
The tool will save a lot of time, give your creativity juice a boost, and helps you think and generate articles coherently.
Not only is it used for writing, but it can also help your edit and revise your content pieces. Isn't it great?
But is it as great as it seems? Let's see:
Benefits:
Create Value Loaded Content:
Inkforall AI writing tool can create high-value content in just a blink of an eye—quality content is always better than quantity or anything else.
With Inkforall, you can focus on other pressing issues and let it handle quality content for you.
Whether you want a new blog to be written or improved and seek a strategy for enhancing the existing one- it has something for you.
Not only that, but Inkforall can also generate unique topics and quality outlines, so you don't have a chance to give in because of writer's block.
Takes Care of SEO:
SEO is another critical thing to keep in mind while creating your content. But, with Inkforall, you don't have to worry about it- it will take care of your SEO needs.
Creating helpful content that is also SEO optimized will consume a hell lot of time if you do it manually. Like this article, it took me days to get it completed.
But with Inkforall, all it takes is just a few commands, and boom, your SEO-optimized blog is ready!
Time-Saving & Amazing Customer support:
As mentioned above, Inkforall will save you a lot of time. You don't have to waste time doing keyword research, writing content, and then editing it. The tool will do it in no time!
Additionally, Inkforall AI writer has an excellent support team. They are prompt with their support and answer any doubts about the tool.
You can even book 30 min introductory call to learn more about the Ai tool.
Their support feature is available to free plan users too!
Offers Free Plan:
Unlike other writing tools, Inkforall AI tool offers free plans for its users. Some AI writing tools only provide a free trial, but with INK AI, you can enjoy their free plan, which is as good as their paid plan.
As I have mentioned above, you will get their customer supports on free plans too!
Simple and Easy-to-Navigate Interface:
Inkforall AI tools help you write content without any difficulty, thanks to its easy-to-use interface. You don't have to spend hours learning how to use the tool; it is simple, easy, and clean.
Its clean and clear projection and interface make it easy for users to navigate across different sections efficiently.
Working in a messy dashboard will cost you your creativity and thinking; it isn't enjoyable when you don't find what you're looking for and have to google it repeatedly.
But, with Inkforall you will save a lot of headache and time and instead focus on creating value-added content.
Generate Unlimited Content With Just a Click:
Inkforall AI tool can generate unlimited content with just a click. Not only writing, but it can also help you generate relevant images to facilitate your content.
Readers will interact with your content more if your content is appropriately formatted with added images in your article.
Unique Features of INK AI Writing Tool
Content written for the audience should also reach them. Otherwise, there will be no point in writing good content, isn't it? And for your content to be seen by many, it must be SEO optimized!
SEO-Optimizer: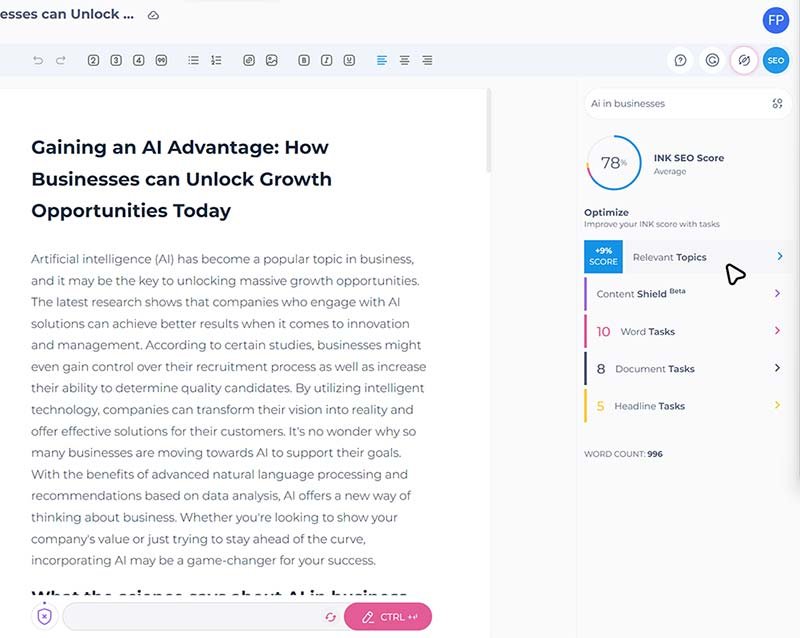 With Inkforall, you don't have to worry about it. It can optimize your content for SERP with just a few clicks of a button.
An Array of Writing Templates:
Inkforall tool comes with more than 100 short-form writing templates to cater to your every need!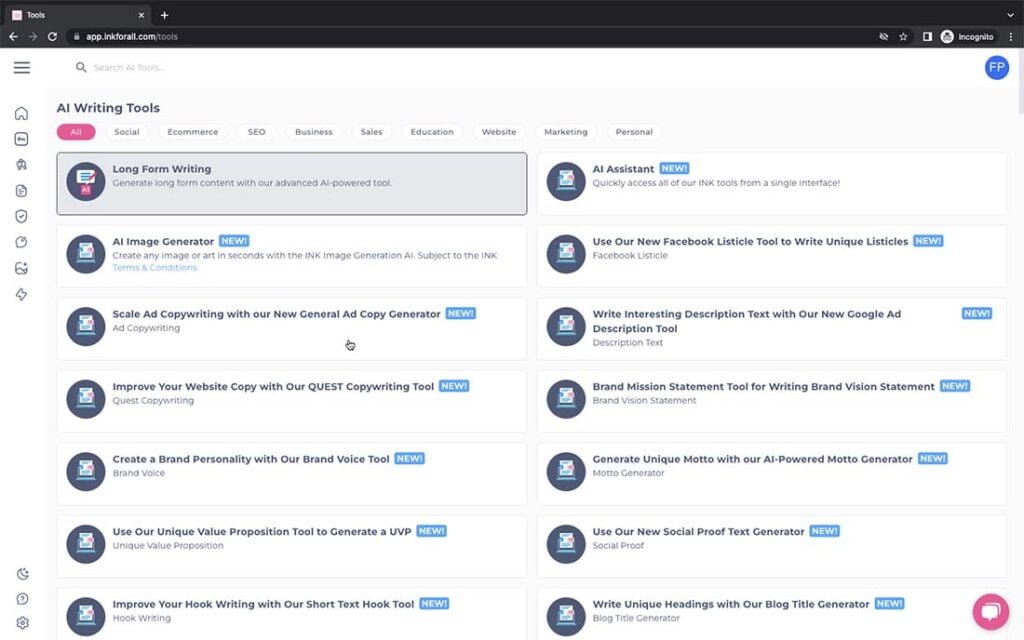 Whether writing a copy with popular frameworks like AIDA or writing formal emails for your business, you can choose among the plethora of templates per your requirement!
AI Writer:
Inkforall AI writer tool can generate content across different topics and niches.
It can produce emails, web copies, and marketing content and write a whole blog post with simple prompts.
The dashboard is easy to use, just shoot some prompts and sit back, and it will produce quality content based on that.
The best thing about it is it generates multiple outputs. So, You can simply choose what you liked the most among the generated outputs!
INK Content Editor:
Clutter can take away your creativity and keep that from happening with a clean and neat INK content editor. It's easy to use and has everything you will ever need.
The editor gives quick access to SEO optimizer and command mode features. It can also be integrated into Grammarly, which means you can correct your spelling and grammar on the go!
INK AI Keyword Research Tool:
Keyword research is a tiresome and time-consuming task. You have to sit in front of your computer screen for hours on end to hunt and filter relevant keywords, but INK AI Keyword Research Tool can automate this task, saving you a bunch of extra time.
All you need to do is provide the AI with inputs like the primary topic, target audience, and audience objective, and it will do the keyword-searching task for you!
AI Image Generator:
INK AI Image Generator can generate relevant images to facilitate your written content. You just have to give it a prompt describing what you want, and the tool will produce a few pictures for you to choose from. You can directly download those images and use them.
And the best thing about their AI image generator is that it comes with no extra cost to you. It will be available for users with their regular plan!
Inkforall AI pricing:
Ink Ai has two plans: Professional and enterprise. You can choose the plan as per your requirement!
Pricing:
Both plans offer free five days trial without any credit cards!
INK AI tool: Pros and Cons
Pros:
Easy to Use and User-Friendly Interface:
It has a clean and neat interface and can be used by almost anyone.
WordPress Integration:
It can be directly integrated into your WordPress dashboard to make things easy.
Excellent Support Team:
The support team is prompt and always ready to help. Free plan users can also have access to the support team.
An Array of Writing Templates:
It has 130+ writing templates across different writing needs.
Desktop Software:
Not only can it be used on the web, but desktop software is also available.
Easy to Generate SEO-Optimized Content:
It can do all your SEO tasks in a snap. You can easily automate keyword research, keyword cluster, and SEO optimization of your written piece.
Cons:
Outputs are Not Always Accurate, and As Per The Description:
Although it has impressive features and promises to produce quality output, it can sometimes get things wrong.
Only English is Supported:
It only supports the English language now. So, if you want outputs in another language, it might not be ideal.
No Mobile Apps:
It has only desktop software and is unavailable as a mobile app.
The Price is a Bit on The Higher Side:
The tool is a bit on the pricey side. You can find other tools at a lot more at a lower price.
Conclusion
INK AI is an easy-to-use AI writing tool with unique features that can create quality content and save time.
It has a clean and concise UI that makes it perfect for anyone to use, even without any prior experience.
Its SEO optimizer and AI image generation are just two of the various unique features.
However, the tool doesn't always produce factually accurate content. It can sometimes get things wrong and generate texts unrelated to your prompt.
Additionally, the tool's price is comparatively higher than similar tools.
But, with that in mind, its features still outrank its cons, and we hope it will be improved more in the future.
Frequently Asked Questions: