Recently updated on March 26th, 2023 at 08:25 am
Kinsta is the fastest-growing web hosting provider that promises users an unparalleled hosting experience.
It stands out from other hosting providers because it is built on the Google Cloud Platform, ensuring customers have access to the most reliable and secure hosting environment.
Many website owners often get confused when it comes to choosing reliable web hosting.
Some may have already chosen or know the name Kinsta; however, they might be in confusion and want to know why Kinsta stands out from other web hosting providers.
This article will help you know what makes Kinsta different from others. We will mainly focus on its unique features and services.
What Makes Kinsta Different from Other Hosting Providers?
Kinsta is a managed web hosting provider that provides its users with industry-leading and unique features that are difficult to find in any other web hosting provider.
They strive to deliver an unmatched experience to all their users and are single-handedly dedicated to providing the best performance, reliability, and scalability.
What mainly makes Kinsta stand out is it is based on the fastest and most reliable platform, Google cloud.
They have a team of the most talented and experienced developers, ultimately making it everyone's choice.
Kinsta also offers a variety of tools and resources to help users get the most out of their hosting experience.
For example, they offer users a fully-managed hosting solution that includes features such as automatic backups, automatic scaling, 24/7 customer support, and more.
Furthermore, Kinsta's pricing model is designed to fit the needs of all customers, from small businesses to large businesses.
With Kinsta, customers can be peaceful knowing that their website is in good hands.
So if you're looking for a different kind of hosting provider, Kinsta Web Hosting should be your first choice.
Kinsta's Doesn't Offer Any Black Friday Sales or Coupon Codes!
Yes, you heard it right! Kinsta is a unique platform that doesn't provide its customers with any black Friday sales or coupon codes. Why! you might ask.
Because Kinsta believes in giving value to its users, they don't believe in high prices to provide customers with coupon codes and discounts.
Additionally, Kinsta claims that the price they set is being determined as per the customer usage as they have year-long experience with both small and large businesses and customers.
In their words:
They don't reward customers with any offers, which doesn't mean that they don't have any provision for you to save some money.
In fact, Kinsta offers their plans to customers for Two Months Free if they choose the option of annual billing.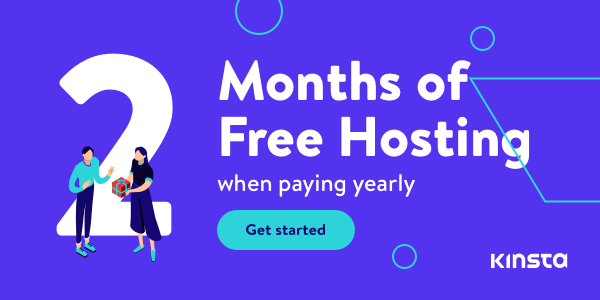 Kinsta's Hosting Unique Features
Let's take a detailed look at some of the fantastic and unique features that Kinsta strives to offer to its users.
1. Managed Hosting
Kinsta offers a managed hosting feature which means you don't have to bang your head over technical back-end work and fear you might get something wrong there.
Kinsta experienced engineers will take care of your back-end task while providing on-demand support if you face any issues.
2. Google Cloud Platform
Kinsta uses Google Cloud Platform for its managed hosting services. This is by far the most attractive feature offered by Kinsta.
Using Google Cloud Platform means hosting your site in the same infrastructure that Google uses for its products, like a search engine.
Even better, Kinsta uses premium tier google cloud, which means the performance and service quality would be unparalleled. Furthermore, Kinsta offers 30+ data centers available across every plan you opt for.
3. Automatic Backups
Kinsta offers daily backup for your site for free. Backup is something that every site owner needs to avoid any worst-case scenarios and downtimes. This feature is sure will save you a lot of time and effort.
With Kinsta, your backup works on autopilot, and they store it for 14 days. They also allow you to create manual backups anytime you need them. You can make up to five manual backups at a time, which will be stored for 14 days.
4. WordPress-focused Feature.
Kinsta has been built specifically for WordPress, which means it provides a WordPress-specific feature that is nowhere to be found in any other hosting providers that use traditional Cpanel.
Kinsta claims these features and tools were added, keeping customer feedback in mind. Some of the features that we think are excellent include the following:
5. Premium Content Delivery Network For Free
Kinsta also offers its user with free Content Delivery Network (CDN). A CDN will help your website load faster for users around the world.
It will act as a network of servers that are based on different locations to facilitate the delivery of content to a particular customer from a specific area faster.
Kinsta offers Cloudflare CDN provider, which is the right choice as it also comes with features like filtering out harmful traffic and more.
Kinsta's CDN offer will save you time and make it easy for you as you don't need to buy and integrate some other extra plugin.
6. 24/7 Customer Support
Kinsta provides its users with 24/7 customer support via a non-conventional Intercom live chat widget.
Intercom chat will ensure that you can navigate through your dashboard while troubleshooting your issue with the support rep.
It will also keep the chat's history so you can revisit the exact conversation and solution that the support team has provided you.
From their end, Kinsta regularly keeps a check on your website to ensure that they get notified of any downtime or issues. However, what Kinsta doesn't offer is call support, but their live chat is as good and responsible as call support.
Kinsta's Pricing Model
Kinsta offers a wide range of plans for the customer to choose from as per their need.
For an entry-level plan, Kinsta offers a starter plan at $35 per month, which includes the following:
1 WordPress site
25,000 visits
10 GB disk space
Free SSL, CDN, and Staging tool
Free Migration feature
The plan goes up to $1650 per month. They also offer unique plans like an individual and agency plan, or you can have a custom plan.
All their plans come with free SSL and CDN.
Kinsta promises a 30-day money-back guarantee along with free migrations, and if you go for annual billing on any other plan, then you can get it for Two Months FREE.
You can find all their plans here.
FAQs
PLEASE SHARE THIS
Conclusion
Although Kinsta has been around for a while and has already gained quite a bit of traction and trust.
Indeed, because their features are unmatched, and once your site is set up on their platform, you will not only get a lot more out of it, but you will also have a piece of mind that a trustable platform is backing up your site.
Kinsta has a great team of developers constantly working on new features and improving their platform.
Although there are many other unique features to get excited about, these are some of the most important and stand-out ones that you will notice as soon as you sign on with them.